Cajun Injector Sauce
Steven Raichlen
Most of the commercial injector sauces are manufactured in Louisiana, so I thought it only fitting to offer a recipe for a Cajun variation.
Print
Cajun Injector Sauce
Recipe Notes
Yield: 1-1/2 cups; enough for 4 chickens or 2 turkeys
Ingredients
1 cup unsalted chicken broth, preferably homemade
4 tablespoons (1/2 stick) salted butter
2 tablespoons white wine or dry vermouth
4 tablespoons Ragin' Cajun Rub or a good commercial brand (see step 1)
1/2 teaspoon freshly ground white pepper
Coarse salt (kosher or sea), to taste
Recipe Steps
Step 1: Combine all the ingredients (including the Ragin' Cajun Rub but not the salt), in a nonreactive saucepan and warm over medium heat just until the butter melts and the salt crystals dissolve. Correct the seasoning, adding salt if needed.
Step 2: Cool to warm room temperature (the butter should remain liquid), then put it in the injector and fire away.
Find This Recipe
And More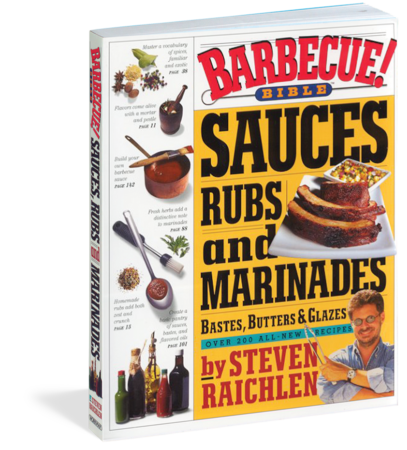 Marinate skewers of beef tips in Tex-Mex Tequila-Jalapeno Wet Rub before putting them on the grill. Or slather pork chops with B.B. Lawnside Spicy Apple Barbecue Sauce. Or coax a chicken breast to perfection with a Coconut Curry Baste. From Steven Raichlen, author of the big, bad, definitive BARBECUE! BIBLE, comes BARBECUE! BIBLE SAUCES, RUBS, […]
Buy Now ‣