Charmoula (Spicy Moroccan Herb Sauce)
Steven Raichlen
Imagine the spices of Morocco, the freshness of Italian pesto, and the acidic tang of French vinaigrette. Put them together and what you get is charmoula. This bold Moroccan table sauce traditionally accompanies seafood, but it's equally tasty with grilled chicken, lamb, beef, even vegetables. Best of all, you can use it simultaneously as a marinade, baste, and table sauce, enjoying a triple blast of its evocative North African flavors.
Print
Charmoula (Spicy Moroccan Herb Sauce)
Recipe Notes
Yield: Makes 1 cup; enough to serve 4
Ingredients
½ cup chopped fresh parsley
½ cup chopped fresh cilantro
3 cloves garlic, minced
1 teaspoon coarse salt (kosher or sea), or more to taste
1 teaspoon paprika
½ teaspoon freshly ground black pepper
½ teaspoon ground cumin
½ teaspoon hot pepper flakes, or to taste
¼ cup fresh lemon juice, or more to taste
¾ cup extra virgin olive oil
3 tablespoons water
Recipe Steps
Step 1: Combine the parsley, cilantro, and garlic in a food processor and finely chop. Add the salt, spices, lemon juice, oil, and water and process to a coarse purée, running the machine in short bursts.
Step 2: Correct the seasoning, adding salt and/or lemon juice; the charmoula should be highly seasoned. Like most sauces made with fresh herbs, charmoula tastes best served within a few hours of making.
Recipe Tips
Find This Recipe
And More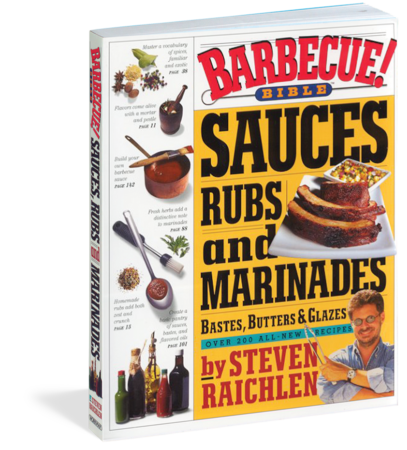 Marinate skewers of beef tips in Tex-Mex Tequila-Jalapeno Wet Rub before putting them on the grill. Or slather pork chops with B.B. Lawnside Spicy Apple Barbecue Sauce. Or coax a chicken breast to perfection with a Coconut Curry Baste. From Steven Raichlen, author of the big, bad, definitive BARBECUE! BIBLE, comes BARBECUE! BIBLE SAUCES, RUBS, […]
Buy Now ‣