Grilled T-Bone Steak with Grape Tomato Salad
Steven Raichlen
About as fancy as steak gets in Italy—a grilled T-bone or New York strip served with a salad of baby tomatoes.
Print
Grilled T-Bone Steak with Grape Tomato Salad
Recipe Notes
Yield: Serves 2 hungry eaters
Method: Direct grilling
Ingredients
For the tomato salad:
1 pint ripe grape tomatoes or baby cherry tomatoes
1 baby leek, or 1 scallion, both white and green parts, finely chopped
2 teaspoons finely chopped fresh oregano leaves
2 tablespoons extra-virgin olive oil
1 tablespoon balsamic vinegar
Coarse salt (kosher or sea) and freshly ground black pepper
For the steak:
2 T-bone steaks (each about 1 1/2 inches thick and 12 to 14 ounces)
Coarse sea salt (must be coarse)
Freshly ground or cracked black pepper (optional)
Extra-virgin olive oil, for serving
1 tablespoon chopped fresh rosemary
Recipe Steps
Step 1: Make the tomato salad: If you are using soft, ripe grape tomatoes, leave them whole. Otherwise, cut the tomatoes in half lengthwise. Place the tomatoes in an attractive serving bowl. Add the leek, oregano, olive oil, and the balsamic vinegar. Do not toss the salad; you'll do this at the last minute. Season the salad with salt and pepper to taste when you toss it.
Step 2: Set up the grill for two-zone direct grilling. Preheat one zone to high and one zone to medium.
Step 3: Prepare the steaks: Generously—and I mean generously—season the steaks with salt and pepper, if using. When ready to cook, brush and oil the grill grate. Arrange the steaks on the hot grate over the high-heat zone and at a diagonal to the bars. Grill the steaks until the outside is crusty and browned and the inside is cooked to taste, 3 to 4 minutes per side for rare, 5 to 6 minutes per side for medium-rare. Use the poke test to test for doneness. (Italians almost never eat their beef more cooked than medium-rare.) If the steak starts to burn, move it to the medium zone.
Step 4: Transfer the steaks to a deep baking dish and let them rest for 2 minutes. Cut the steaks off the bone and, holding your knife upright, cut the meat into strips 1/4 inch wide and 3 inches long. Douse the slices with a few tablespoons of olive oil, sprinkle the rosemary on top, and spoon the juices that accumulate in the dish over the meat. Serve the steaks at once with the tomato salad on the side.
Find This Recipe
And More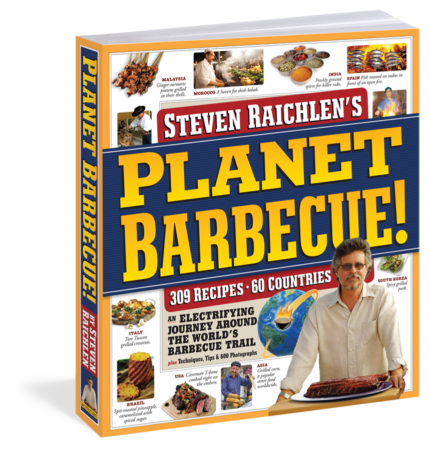 The most ambitious book yet by America's bestselling, award-winning grill expert whose Barbecue! Bible books have over 4 million copies …
Buy Now ‣