Lexington Slaw
Steven Raichlen
Once again, a simple vinegary slaw serves as a counterpoint for rich pulled pork.
Print
Lexington Slaw
Recipe Notes
Ingredients
1 medium-size head green cabbage (about 2 pounds)
1 cup Lexington Vinegar Sauce, or more to taste (see step 2)
Coarse salt (kosher or sea; optional)
Recipe Steps
Step 1: Remove the core from the cabbage and discard it. Cut the cabbage into 8 chunks. Finely chop the cabbage in a food processor using the metal blade and pulsing the motor (this is a chopped, not sliced or slivered, slaw). Work in several batches so as not to overcrowd the processor bowl.
Step 2: Place the cabbage in a large nonreactive bowl and stir in the Lexington Vinegar Sauce. Taste for seasoning, adding more vinegar sauce as necessary. Let stand for 10 minutes, then taste again for seasoning, adding more vinegar sauce and/or salt as necessary. The coleslaw can be made up to 4 hours ahead. Store
it in the refrigerator, covered.
Find This Recipe
And More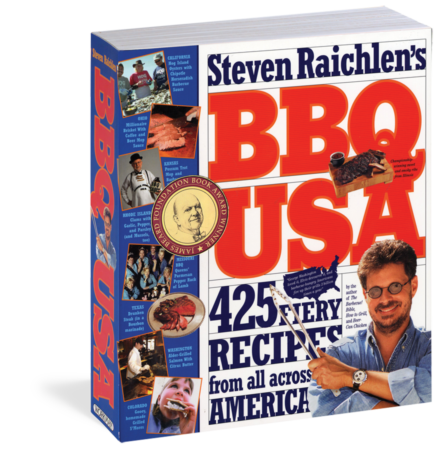 Steven Raichlen, a national barbecue treasure and author of The Barbecue! Bible, How to Grill, and other books in the Barbecue! Bible series, embarks on a quest to find the soul of American barbecue, from barbecue-belt classics-Lone Star Brisket, Lexington Pulled Pork, K.C. Pepper Rub, Tennessee Mop Sauce-to the grilling genius of backyards, tailgate parties, […]
Buy Now ‣