Malaysian Chicken Satés
Steven Raichlen
Asians prefer the rich flavor of dark-meat chicken (chicken thighs or drumsticks). For ease in preparation, I've called for boneless breasts, but you could certainly use dark meat.
Print
Malaysian Chicken Satés
Recipe Notes
Advance Prep: 1 hour for marinating the chicken
Yield: Serves 8 as an appetizer, 4 as a main course
Equipment: About 40 short bamboo skewers and an aluminum foil shield; 1 stalk fresh lemongrass, untrimmed
Ingredients
1-1/2 pounds skinless, boneless chicken breasts
4 large or 6 medium-size shallots, quartered
2 stalks fresh lemongrass, trimmed and cut into 1⁄2-inch pieces, or 2 strips lemon zest (each 2 by 1⁄2 inches; removed with a vegetable peeler)
1 tablespoon chopped peeled fresh ginger
3 tablespoons dry-roasted peanuts
6 tablespoons vegetable oil
2 tablespoons fresh lemon or lime juice, or more to taste
1 tablespoon soy sauce
1 teaspoon salt, or more to taste
1 teaspoon ground turmeric
1 teaspoon ground cumin
1 teaspoon ground coriander
1/4 teaspoon ground cinnamon
1/2 teaspoon freshly ground black pepper
Spicy Peanut Sauce (see step 6)
Recipe Steps
Step 1: Rinse the chicken breasts under cold running water, then drain and blot them dry with paper towels. Cut the chicken breasts lengthwise (with the grain) into 2-1/2-inch-long strips about the size of your little finger. Place the chicken in a large bowl.
Step 2: Combine the shallots, lemongrass pieces, ginger, peanuts, 3 tablespoons of the oil, and the lemon juice, soy sauce, salt, turmeric, cumin, coriander, cinnamon, and pepper in a food processor and process to a smooth paste. Taste for seasoning, adding more salt and/or lemon juice as necessary; the marinade should be highly seasoned. Add the marinade to the chicken, stirring to coat completely. Let the chicken marinate in the refrigerator, covered, for 1 hour, stirring once or twice.
Step 3: Remove the chicken from the marinade; discard the marinade. Weave the strips of chicken lengthwise onto skewers.
Step 4: Set up the grill for direct grilling and preheat to high.
Step 5: When ready to cook, brush and oil the grill grate. Arrange the satés on the hot grate with the aluminum foil shield under the ends of the skewers. Grill, turning with tongs, until lightly browned and cooked through, 1 to 3 minutes per side (2 to 6 minutes in all). Using the whole lemongrass stalk as a brush, baste the satés with the remaining 3 tablespoons of oil once or twice as they cook.
Step 6: Transfer the satés to serving plates or a platter and serve with the Spicy Peanut Sauce.
Find This Recipe
And More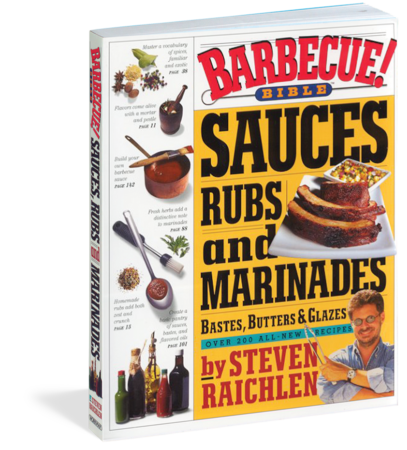 Marinate skewers of beef tips in Tex-Mex Tequila-Jalapeno Wet Rub before putting them on the grill. Or slather pork chops with B.B. Lawnside Spicy Apple Barbecue Sauce. Or coax a chicken breast to perfection with a Coconut Curry Baste. From Steven Raichlen, author of the big, bad, definitive BARBECUE! BIBLE, comes BARBECUE! BIBLE SAUCES, RUBS, […]
Buy Now ‣