Peruvian Beef Kebabs (Anticuchos)
Steven Raichlen
Peruvians from all economic classes eat these spicy kebabs dipped in fiery yellow chile sauce as a quick lunch on the go, a late night pick-me-up, and just about any time in between.
Print
Peruvian Beef Kebabs (Anticuchos)
Recipe Notes
Advance Prep: 2 to 4 hours for marinating rib eye or sirloin; 6 to 12 hours for marinating beef heart
Yield: 6 servings as an appetizer, 4 as a light main course
Equipment: Bamboo skewers; an aluminum foil grill shield
Ingredients
4 cloves garlic, peeled
1 tablespoon cumin seeds, or 1 tablespoon ground cumin
1/4 cup aji panca paste, 3 tablespoons Hungarian hot paprika, or 2 canned chipotle peppers with 1 tablespoon of their juices
2 tablespoons red wine vinegar
About 2 tablespoons achiote oil or extra-virgin olive oil, plus oil for basting
Coarse salt (kosher or sea) and freshly ground black pepper
1-1/2 pounds beef rib eye or sirloin, or 1-1/3 pounds beef heart
Yellow Chile Peanut Sauce (see step 7)
Recipe Steps
Step 1: Heat a dry cast-iron skillet over medium heat. (If your grill has a side burner, this is a good time to use it.) Add the garlic and cook until browned on all sides, 2 minutes per side, 6 to 8 minutes in all (you can also grill the garlic on a small skewer at a previous grill session). Transfer the garlic to a small bowl and let it cook.
Step 2: Add the cumin seeds, if using, to the hot skillet and toast them over medium heat until the cumin is very fragrant and lightly browned, 2 to 4 minutes. Transfer the toasted cumin seeds to a heatproof bowl and let them cool. Grind the cumin seeds to a fine powder in a spice mill or pound them in a mortar using a pestle. If you are using ground cumin, toast it in the skillet over medium heat until fragrant, 1 to 2 minutes.
Step 3: Place the cooled garlic, ground toasted cumin, and aji panca paste (or paprika or chipotles) in a food processor and puree to a fine paste. Gradually work in the wine vinegar and enough achiote oil to make a thick paste. Season the marinade with salt and black pepper to taste; it should be highly seasoned.
Step 4: If you are using beef hearts, cut them lengthwise into strips that are about 1-1/2 inches wide. Cut each strip crosswise sharply on the diagonal to make pieces about 3 inches long, 1-1/2 inches wide, and 1/4 inch thick. If you are using steak, cut it into pieces of that size. Weave 3 pieces of meat back and forth onto each skewer so the flat side will be exposed to the fire.
Step 5: Arrange the skewers in a nonreactive baking dish. Spread the marinade over the meat with a spoon, thickly coating both sides. If you are using steak, let it marinate in the refrigerator, covered, for 2 to 4 hours, turning it once or twice so that the meat marinates evenly. If you are using beef heart, let it marinate for 6 to 12 hours in the refrigerator, covered, turning it several times.
Step 6: Set up the grill for direct grilling and preheat it to high.
Step 7: When ready to cook, brush and oil the grill grate. Drain the anticuchos, discarding the marinade. Arrange the anticuchos on the hot grate, with the aluminum foil shield under the exposed ends of the skewers to keep them from burning. Grill the anticuchos until they are sizzling, golden brown, and cooked through, 3 to 4 minutes per side (anticuchos are generally eaten medium-well to well done). Baste the anticuchos on the grilled side with achiote oil after 3 minutes to keep the meat moist (you'll need about 2 tablespoons oil). Use the poke test to check for doneness. Serve the anticuchos sizzling hot off the grill with the Yellow Chile Peanut Sauce, if desired.
Recipe Tips
The aji panca is a rust-red, medium-hot Peruvian chile that tastes like a cross between Hungarian hot paprika and Mexican chipotle. Look for this ingredient at Peruvian and Hispanic markets or online.
Get more ideas for kebabs:
Find This Recipe
And More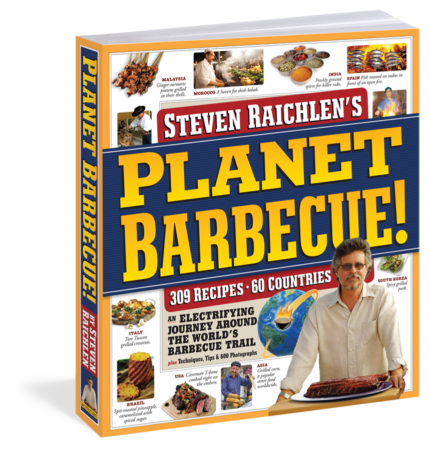 The most ambitious book yet by America's bestselling, award-winning grill expert whose Barbecue! Bible books have over 4 million copies …
Buy Now ‣