Red-Eye Gravy
Steven Raichlen
Print
Red-Eye Gravy
Recipe Notes
Yield: Makes about 3 cups
Ingredients
3 tablespoons pork drippings or butter
1 medium onion or 3 to 4 shallots, finely chopped (about 1 cup)
4 ounces Smithfield ham or Canadian bacon, cut into matchstick slivers
4 teaspoons flour
2 cups brewed coffee
1/2 cup tomato sauce or ketchup
1/2 cup heavy cream
2 tablespoons Worcestershire sauce
2 to 3 tablespoons brown sugar, or to taste
Recipe Steps
Step 1: Heat the pork drippings or butter in a cast iron skillet. Add the onion and ham and cook over medium-high heat until browned, 3 minutes, stirring with a wooden spoon.
Step 2: Stir in the flour and cook for 30 seconds. Stir in the coffee and boil until reduced to 3/4 cup, 3 minutes, scraping the bottom of the pan with the wooden spoon to dissolve any burnt on meat juices.
Step 3: Stir in the tomato sauce, cream, Worcestershire, and sugar and simmer for 3 minutes. Add salt (you won't need much—the ham is salty already) and pepper and additional sugar if desired to taste: the gravy should be highly seasoned.
Find This Recipe
And More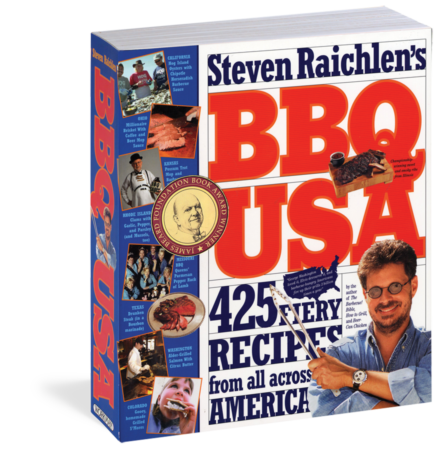 Steven Raichlen, a national barbecue treasure and author of The Barbecue! Bible, How to Grill, and other books in the Barbecue! Bible series, embarks on a quest to find the soul of American barbecue, from barbecue-belt classics-Lone Star Brisket, Lexington Pulled Pork, K.C. Pepper Rub, Tennessee Mop Sauce-to the grilling genius of backyards, tailgate parties, […]
Buy Now ‣