Bacon Sundaes
Steven Raichlen
Here's a dessert based on the assumption that everything tastes better with bacon—even dessert. It pays homage to my friends in Quebec (where I've taped my Maître du Grill TV show), offering a triple blast of maple flavor in the form of maple-glazed bacon, maple ice cream, and maple whipped cream.
Other Dessert Recipes:
Print
Bacon Sundaes
Recipe Notes
Total Time: About 30 minutes
Yield: Serves 4
Equipment: A large (10- to 12-inch) skillet and a strainer plus an electric handheld or stand mixer, a whisk, or a CO2 charger
Ingredients
For the candied bacon and walnuts:
4 thick slices bacon (4 ounces), cut crosswise into 1/4-inch slivers
1/2 cup coarsely chopped walnuts
1/2 cup pure maple syrup
2 tablespoons sherry vinegar or rice vinegar
For the sundaes:
3/4 cup heavy (whipping) cream
2 tablespoons pure maple syrup
1 pint (2 cups) maple-walnut ice cream, or more to taste
Ground cinnamon, for sprinkling
Recipe Steps
Step 1: Make the candied bacon and walnuts: Place the bacon in a cold skillet over medium heat. Cook until the fat renders and the bacon begins to brown and crisp, 6 to 8 minutes, stirring with a wooden spoon. Add the walnuts and continue cooking until the bacon and walnuts are golden brown, about 2 minutes. Do not let them burn. Drain the bacon mixture by placing it in a strainer over a heatproof bowl. Save the bacon fat for a future use, like frying potatoes.
Step 2: Return the bacon and walnuts to the skillet and add the 1/2 cup of maple syrup and the vinegar. Cook the bacon mixture over medium heat until it is thick and syrupy, about 3 minutes, stirring with a wooden spoon. The mixture should have a pourable consistency. Set the skillet aside and keep warm. The candied bacon can be made earlier in the day; cover the skillet and set it aside. Rewarm the candied bacon over low heat when you are ready to serve the sundaes.
Step 3: Make the sundaes: Place the cream and 2 tablespoons of maple syrup in a chilled metal bowl and, using a mixer or whisk, beat the cream until soft peaks form. Alternatively, pour the cream and maple syrup into a CO2 charger and shake well to mix, 7 or 8 times. Invert the charger and squeeze the handle to release the whipped cream. Refrigerate the maple whipped cream, covered, until serving.
Step 4: To assemble the sundaes, scoop the ice cream into balls and place 1 scoop in each of 4 sundae glasses or bowls. Spoon the warm candied bacon and walnuts on top. Top with the maple whipped cream and a sprinkling of cinnamon.
Recipe Tips
Try these other bacon recipes:
Bacon and Cheese Prunes
Bacon-Cheddar Poppers
Bacon-Wrapped Hot Dogs

Find This Recipe
And More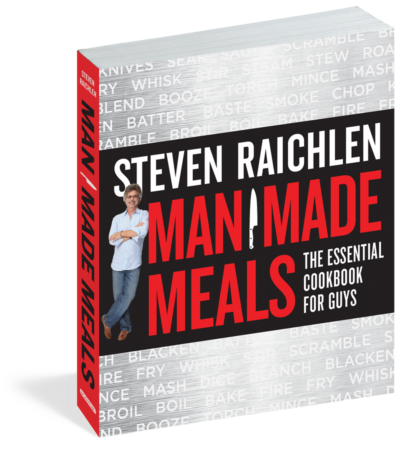 Man Made Meals is about the tools and techniques (guess what, grillers, you still get to play with knives and fire.) …
Buy Now ‣