Bratwurst with Curry Sauce (Currywurst)
Steven Raichlen
In 1993, a charming novella skyrocketed to the top of Germany's bestseller list: Die Entdeckung der Currywurst (it means "the invention of curried bratwurst"), by Uwe Timm. The book's subject was one of Germany's most bizarre and beloved street foods: thin slices of a starchy white sausage slathered with a sweet curried tomato sauce and served in a rectangular paper dish with toothpicks. Tradition holds that currywurst was born in Berlin in the 1950s, but Timm traces its origins to Hamburg, a city utterly destroyed (like most of Germany) during the Second World War.
Today, currywurst turns up throughout Germany (and beyond). There's even a special machine for slicing the sausage into perfect coin-shaped rounds. Most currywurst comes cooked in a frying pan or in a grill pan, but occasionally you'll find a vendor who grills the sausage over charcoal. If you do, you're in for a treat. Of course, no one will tell you exactly how the "secret sauce" is made. Here's my best guess.
Print
Bratwurst with Curry Sauce (Currywurst)
Recipe Notes
Yield: Serves 4
Equipment: Toothpicks, for serving
Ingredients
2 tablespoons vegetable oil
1/4 cup very finely minced white onion
1 teaspoon mustard seeds or dry mustard
1 tablespoon curry powder
1/2 teaspoon freshly ground black pepper
1/4 teaspoon freshly grated nutmeg
1/4 teaspoon anise seed
1 cup ketchup, preferably Heinz
4 weisswurst or other cooked or uncooked white veal sausages (about 1 1/2 pounds total)
Recipe Steps
Step 1: Heat 1 tablespoon of the oil in a medium-size saucepan over medium heat. Add the onion and mustard seeds and cook until the onion just begins to brown, 3 to 4 minutes. Stir in the curry powder, pepper, nutmeg, and aniseed and cook until fragrant, about 1 minute. Stir in the ketchup and let the sauce simmer gently until thick and richly flavored, 3 to 5 minutes. The curried tomato sauce can be made several days ahead of time but it should be rewarmed before serving.
Step 2: Set up the grill for direct grilling and preheat it to high. If you are using uncooked sausage, leave one-third of the grill bare for a safety zone.
Step 3: When ready to cook, brush and oil the grill grate. Arrange the sausages on the hot grate about 1 inch apart. Grill the sausages until they are crusty and brown on all sides, and cooked through, 2 to 3 minutes per side for cooked sausage; 8 to 10 minutes per side for uncooked sausage. In the event of a flare-up, move the sausage to the safety zone.
Step 4: Transfer the grilled sausages to a cutting board. Cut each sausage crosswise into 1/4-inch-thick slices. Mound the sausage slices in shallow bowls, one sausage per person, and spoon the curried tomato sauce on top. Serve with toothpicks.
Recipe Tips
Ask Germans what's the proper sausage for currywurst and they will likely name bratwurst. What they won't tell you is that Germany has as many varieties of bratwurst as Kansas City has rib joints. The bratwurst in question here is a mild-flavored, white veal sausage with a fine-textured, slightly spongy filling. In other words, it's nothing like the meaty fresh pork bratwurst popular in the United States and associated with Wisconsin. The closest equivalent in North America would be a sort of albino frankfurter called a weisswurst (literally "white sausage"). Look for it at German-style delicatessens and many supermarkets. Or for an interesting nontraditional variation, use Wisconsin-style bratwurst.
Find This Recipe
And More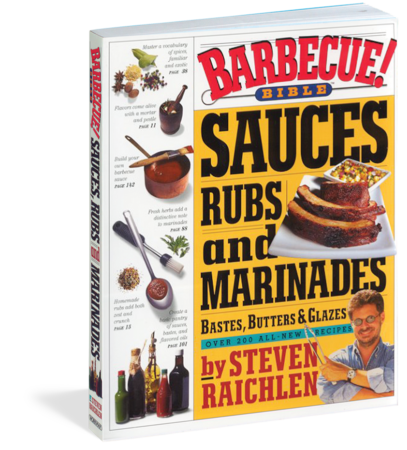 Marinate skewers of beef tips in Tex-Mex Tequila-Jalapeno Wet Rub before putting them on the grill. Or slather pork chops …
Buy Now ‣