Rouille (Saffron–Roasted Pepper Sauce)
Steven Raichlen
This sauce, called rouille in French, is a pungent roasted red pepper and saffron sauce that's traditionally served with bouillabaisse and other fish soups. It's not a huge leap from fish soup to grilled fish and you'll be glad you made it, for this sauce fairly explodes with the Mediterranean flavors of saffron, cayenne, and roasted peppers. It also makes a pretty topping for bruschetta. Tradition calls for the peppers to be roasted in the oven, but I like the smoky sweetness they acquire over a high flame on the grill. (Both methods can be used for this sauce.) So how did the sauce acquire its hard-to-pronounce name? Rouille is the French word for rust—a fitting description of its orange-red hue.
Print
Rouille (Saffron–Roasted Pepper Sauce)
Recipe Notes
Yield: Makes about 2 cups; enough to serve 6 to 8
Ingredients
2 large red bell peppers
2 slices white bread, crusts removed
1/2 teaspoon saffron threads
1 cup hot water
3 cloves garlic, coarsely chopped
1 cup extra virgin olive oil
1 tablespoon fresh lemon juice, or more to taste
1/4 teaspoon cayenne pepper, to taste
Coarse salt (kosher or sea) and freshly ground black pepper, to taste
Recipe Steps
Step 1: Preheat the grill to high.
Step 2: Place the peppers on the grate and grill until the skins are charred on all sides, 4 to 6 minutes per side (16 to 24 minutes total). Grill the bread slices until nicely toasted, 2 minutes per side. Or broil the peppers and bread or char the peppers over a burner on the stove and toast the bread in the toaster. Set aside the toast. Transfer the peppers to a plate to cool. When the peppers are cool, scrape off the burnt skins (don't worry about removing every last bit—a few black specs will add character). Stem and seed the peppers and cut into 1-inch pieces.
Step 3: Crumble the saffron threads between your thumb and forefinger and place in a small bowl with 1 tablespoon of the hot water. Let the saffron infuse for 10 minutes. Place the toasted bread in a bowl with the remaining hot water. Let soak for 5 minutes.
Step 4: Wring the water out of the bread slices by squeezing them between your fingers. Place the bread in a food processor with the grilled peppers, saffron, and garlic. Purée to a thick paste. Add the olive oil in a thin stream with the machine running to obtain a thick creamy sauce. Add the lemon juice, cayenne, salt, and pepper. Correct the seasoning, adding salt, cayenne, or lemon juice; the sauce should be spicy and piquant. Use right away or transfer to a large jar, cover, and refrigerate. The sauce will keep for several weeks.
Recipe Tips
This sauce goes especially well with grilled seafood. (After all, it was originally created to accompany bouillabaisse.) You could certainly serve it with chicken or even over a grilled veal chop or steak. Spread it on grilled bread slices to make an off-beat bruschetta or even dish it up as a dip for grilled vegetables.
Find This Recipe
And More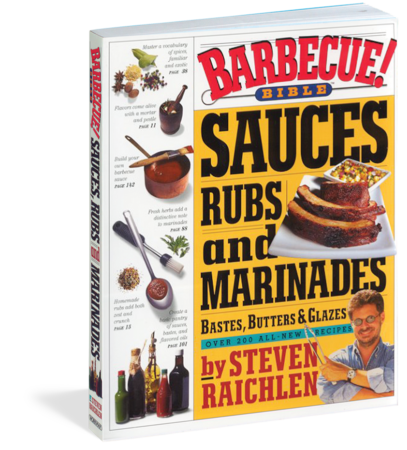 Marinate skewers of beef tips in Tex-Mex Tequila-Jalapeno Wet Rub before putting them on the grill. Or slather pork chops …
Buy Now ‣